Books are a uniquely portable magic. —Stephen King
The following list are suggestions of books I've read recently that I think would make for perfect reading for children aged 9-12. Not only are there academic benefits to reading (reading just 20 minutes a day can improve a child's vocabulary dramatically as outlined here) there's the impact it can have on empathy levels and general well-being – both of which are immensely important right now.
If you're able to, please try and make any upcoming book purchases from an independent bookseller as opposed to Amazon. Please support your local bookshops during this tumultuous and uncertain time for them, doing so could be truly invaluable. Hive is a fantastic website for coordinating purchasing from local bookshops. Most independent bookshops will send books directly if you give them a call, this directory will help you find your nearest store.
(Here's the YA list and here's the list for adults)
No Ballet Shoes In Syria by Catherine Bruton
Aya is eleven years old and has just arrived in Britain with her mum and baby brother, seeking asylum from war in Syria. When Aya stumbles across a local ballet class, the formidable dance teacher spots her exceptional talent and believes that Aya has the potential to earn a prestigious ballet scholarship. But at the same time, Aya and her family must fight to be allowed to remain in the country, to make a home for themselves, and to find Aya's father – separated from the rest of the family during the journey from Syria.
The Crossover by Kwame Alexander
12-year-old Josh and his twin Jordan have basketball in their blood. They're kings of the court, star players for their school team. Their father used to be a champion player and they each want nothing more than to follow in his footsteps. Both on and off the court, there is conflict and hardship which will test Josh's bond with his brother. In this heartfelt novel in verse, the boys find that life doesn't come with a play-book and it's not all about winning.
The Boy With The Butterfly Mind by Victoria Williamson 
Jamie Lee just wants to be normal but his ADHD isn't making it easy. If only he could control his butterfly mind then he'd have friends, be able to keep out of trouble, live with his mum and not be sent to stay with his dad. Elin Watts just wants to be perfect. If she could be the best student and daughter possible, then maybe her dad would leave his new family and come back to Glasgow to live with Elin and her mum, happily ever after. When Jamie and Elin's families blend, the polar opposites of chaotic Jamie and ordered Elin collide. As their lives spiral out of control, Jamie and Elin discover that they're actually more alike than they'd admit. Maybe there's no such thing as normal, or perfect. And perhaps, just like families, happy-ever-afters come in all shapes and sizes
A Pocketful Of Stars by Alisha Bushby
Can piecing together the past help you change the present? Safiya and her mum have never seen eye to eye. Her mum doesn't understand Safiya's love of gaming and Safiya doesn't think they have anything in common. As Safiya struggles to fit in at school she wonders if her mum wishes she was more like her confident best friend Elle. But then her mum falls into a coma and, when Safiya waits by her bedside, she finds herself in a strange and magical world that looks a bit like one of her games. And there's a rebellious teenage girl, with a secret, who looks suspiciously familiar . . .
The Closest Thing To Flying by Gill Lewis
Present day: Semira doesn't know where to call home. She and her mother came to England when she was four years old, brought across the desert and the sea by a man who has complete control. Always moving on, always afraid of being caught, she longs for freedom.1891: Hen knows exactly where to call home. Her stifling mother makes sure of that. But her Aunt Kitty is opening her eyes to a whole new world. A world of animal rights, and votes for women, and riding bicycles! Trapped in a life of behaving like a lady, she longs for freedom.When Semira discovers Hen's diary, she finds the inspiration to be brave, to fight for her place in the world, and maybe even to uncover the secrets of her own past.
The Disconnect by Keren David
Esther misses her father and sister greatly, but they live thousands of miles away in New York. And right now the family café is struggling and there's no way she can afford to visit them. However an eccentric millionaire offers a challenge – £1,000 if you manage not to use your phone for six weeks!
The Star Outside My Window by  Onjali Q. Raúf
Aniyah and her younger brother have recently arrived in foster care, after the dissppearence of their mother. The only thing Aniyah knows for sure is that people never truly go away, they become stars in the sky. When a competition to name a star appears, Aniyah knows that her mum's star and it must be given its proper name.
Vote For Effie by Laura Wood
Effie Kostas wants to be student council president as she wants the best possible things for the student body of her school. Bringing together a group of misfits, she fights for whats right – refusing to let anyone or anything get her down.
Warrior Boy by Virginia Clay
Ben is sure he won't be accepted by his estranged Maasai family, but when he arrives in Kenya, he finds there is a lot more at stake than his pride … In a stunning adventure, he embarks on a journey of self-discovery as he sets out to claim his true place in the world.
The Starlight Watchmaker by Lauren James
Hugo works as a watchmaker as a prestigious inter-galaxy school. When privileged Dorian comes asking for Hugo to fix his watch, the two must go on a journey – both to find the culprit but also their opinions about each other.
Ghost Boys by Jewell Parker Rhodes
Twelve-year-old Jerome doesn't get into trouble. He goes to school. He does his homework. He takes care of his little sister. Then Jerome is shot by a police officer who mistakes his toy gun for a real threat. As a ghost, watching his family trying to cope with his death, Jerome begins to notice other ghost boys. Each boy has a story and they all have something in common… Bit by bit, Jerome begins to understand what really happened – not just to him, but to all of the ghost boys.
Boy 87 by Ele Fountain
The story of a refugee: one child's journey stands for the journeys of many and the hopes of even more. Shif is just an ordinary boy who likes chess, maths and racing his best friend home from school. But one day, soldiers with guns come to his door – and he knows that he is no longer safe. Shif is forced to leave his mother and little sister, and embark on a dangerous journey; a journey through imprisonment and escape, new lands and strange voices, and a perilous crossing by land and sea. He will encounter cruelty and kindness; he will become separated from the people he loves. 
Ella On The Outside by Cath Howe
A young girl moves to a new town with her mother and brother, escaping something in their recent past. When the coolest girl in school decides to befriend her, but only if she works for it, she finds herself spying on another girl.
Checkmates by Stewart Foster
A young boy with ADHD and a difficult home-life (due to financial issues) discovers chess and a new bond with his Grandfather, who has a secret history of his own.
Little Bird Flies by Karen McCombie
Bridie lives on the remote Scottish island of Torrnish, the youngest of three sisters. Although she loves her island, with its wild seas and big skies, she guiltily nurses a secret dream of flight – to America and the freedom of the New World. But her family are struggling under the spiteful oppression of the new Laird, and it seems that even some of the Laird's own household are desperate to leave. When the Laird's full cruelty becomes apparent, there's no more time for daydreams as Bridie needs to help the people she loves escape to safety.
Look Both Ways by Jason Reynolds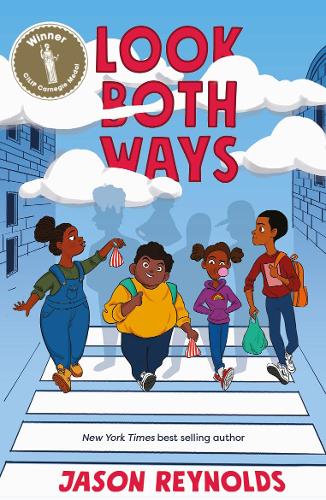 10 short stories, loosely interconnected, about students on their way home from school – during that sweet spell of freedom when nothing yet everything matters.
Max Kowalski Didn't Mean It by Susie Day
With his mum having recently passed away, Max plays surrogate parent to this three younger sibilings whilst his dad tries his best. But when dad has to lie low, Max is on his own with too much to handle.