"I would like, if I may, to take you on a strange journey." – The Rocky Horror Picture Show
The first (of hopefully!) many editions of Movie Monday. A bit like Spotify's #ThrowbackThursday playlist, where I'll pick a theme and ten accompanying film recommendations. Five from Netflix and five from Amazon Prime.
This week Halloween Fantasy …
Hellboy  (2004)
Who? Directed by Guillermo Del Toro. Starring Ron Perlman, John Hurt, Doug Jones, Selma Blair and Rupert Evans.
What? At the end of World War II, the Nazis attempt to open a portal to a paranormal dimension in order to defeat the Allies, but are only able to summon a baby demon who is rescued by Allied forces and dubbed "Hellboy" (Ron Perlman). Sixty years later, Hellboy serves as an agent in the Bureau of Paranormal Research and Defense, where he, aided by Abe Sapien (Doug Jones), a merman with psychic powers, and Liz Sherman (Selma Blair), a woman with pyrokinesis, protects America against dark forces.
Why? First of all, it's a Del Toro movie and therefore a must-see. Furthermore, everyone talks about how perfect the casting of RDJ as Tony Stark was. Rarely does anyone give Perlman the acclaim he deserves as a pitch-perfect Hellboy. It's a beautifully rendered fantasy movie about love, friendship and family. Epic.
The Mummy (1999)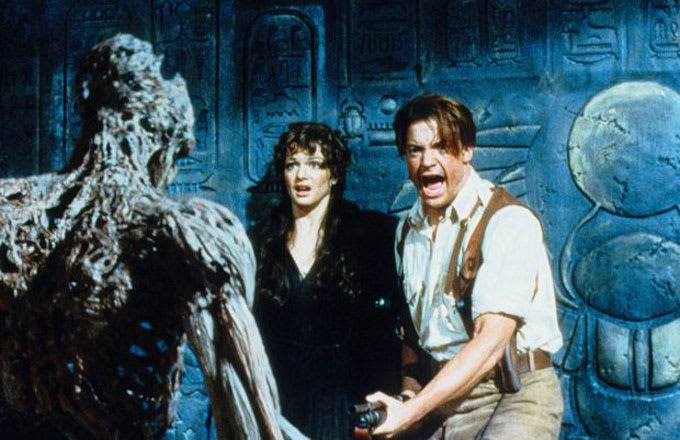 Who? Starring Brendan Fraser, Rachel Weisz and John Hannah.
What? Stumbling upon an ancient tomb, an expedition treasure-seeking explorers unwittingly set loose a 3,000-year-old legacy of terror, which is embodied in the vengeful reincarnation of an Egyptian priest who had been sentenced to an eternity as one of the living dead.
Why? Watching last year's truly dreadful Tom Cruise starring The Mummy (click here for my review) reminded me of my love for this one. It's slightly scary, spooky and so much fun. Fraser is at his dashingly comedic best. The kind of rollicking fun fantasy they don'y make nearly often enough.
Matilda (1996)
Who? Directed by Danny Devito (who knew?!?) who also stars, alongside Mara Wilson, Pam Ferris, Rhea Perlman and Embeth Davidtz.
What? Matilda Wormwood (Mara Wilson), is a gifted girl forced to put up with a crude, distant father (Danny DeVito) and mother (Rhea Perlman). Worse, Agatha Trunchbull (Pam Ferris), the evil principal at Matilda's school, is a terrifyingly strict bully. However, when Matilda realizes she has the power of telekinesis, she begins to defend her friends from Trunchbull's wrath and fight back against her unkind parents.
Why? This film is now 22 years old. And it's held up very well indeed. It's a beautiful adaptation of Roald Dahl's beloved book that has a timeless quality about it. Wilson is perfectly cast as Matilda, as is the choice of Thurston Harris' 'Little Bitty Pretty One' to soundtrack her learning to control her powers. The scene is so iconic it continues to produce parodies, such as this brilliant one from just four weeks ago.
Labyrinth (1986)
Who? Directed Jim Henson and written by Terry Jones. Starring David Bowie, Jennifer Connelly
What? Teenage Sarah (Jennifer Connelly) journeys through a maze to recover her baby brother (Toby Froud) from a goblin king (David Bowie).
Why? I'd never have forgiven myself if I had the opportunity to feature a David Bowie vehicle and didn't include it. Also, this week brought the news that a sequel is finally underway. If you're yet to see this film then you need to see it, and consider your previous life choices. Someday I'll write about how this scene is one of my favourite in cinema, although it's also really creepy when you think about it too much…
Kubo And The Two Strings (2016)
Who? Made by Laika (Coraline, Corpse Bride, Paranormana and The Boxtrolls). Voiced by Art Parkinson, Charlize Theron, Matthew McConaughey, Ralph Fiennes and Rooney Mara.
What? Young Kubo's (Art Parkinson) peaceful existence comes crashing down when he accidentally summons a vengeful spirit from the past. Now on the run, Kubo joins forces with Monkey (Charlize Theron) and Beetle (Matthew McConaughey) to unlock a secret legacy. Armed with a magical instrument, Kubo must battle the Moon King (Ralph Fiennes) and other gods and monsters to save his family and solve the mystery of his fallen father, the greatest samurai warrior the world has ever known.
Why? One of my top ten films of 2016, I reviewed it here for Vulture Hound. It's not hyperbolic to say that we are currently living in a golden age of animation – this being,easily, one of the great animated movies of the past decade. It's sweet, tender, funny and packed with an entire spectrum of emotion.